Anti-Fatigue Mat Best-Sellers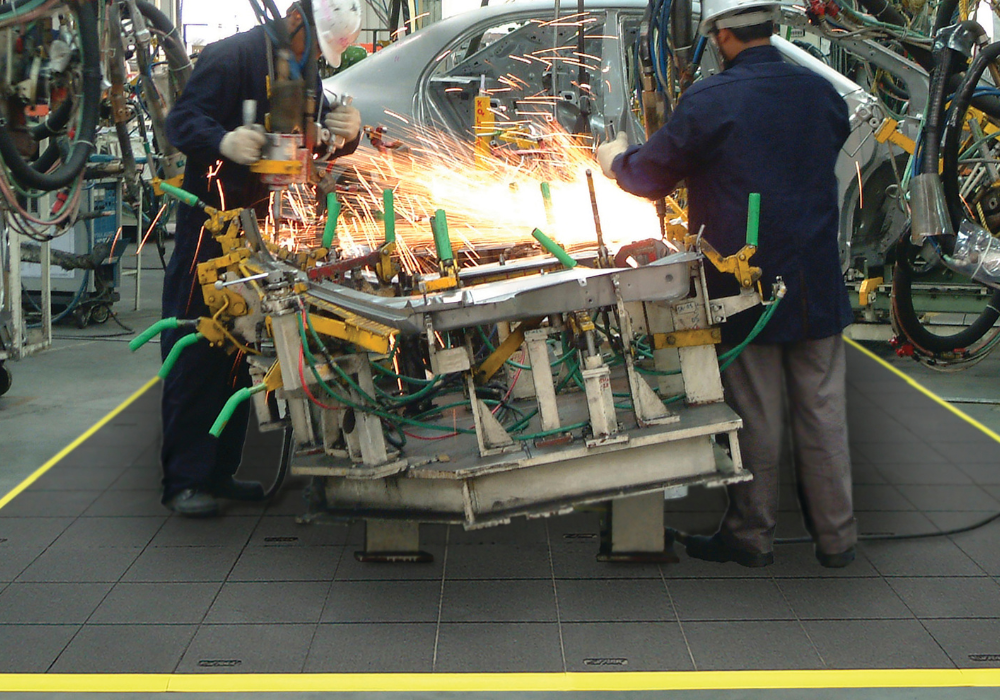 Anti-fatigue mats are widely used in the workplace to offer more comfort and safety to employees who must stand for long periods of time. It's been scientifically proven that workers who must stand for any length of time as part of their job develop lower limb disorders, including Plantar Fasciitis. Anti-fatigue mats offer users a cushioning effect resulting in less discomfort and better circulation to the lower limbs, thereby reducing leg and foot tiredness. They also feature a thermal insulating effect which works to combat the cold air that rises from concrete floors.
Along with additional comfort, anti-fatigue mats have anti-slip surfaces to prevent any slips or accidents from occurring. The anti-slip surfaces offer better stability and grip to the user and are suitable for all types of movement. The Cushion Ease Solid™ Anti-Fatigue Tile comes with a Grip Step® (GSII) surface for extra adherence in extremely slippery areas and is rated under DIN 51130.
Pittman® carries a wide range of mats, including mats for dry, wet, or cold workplace environments. When choosing your anti-fatigue mat it's important to look at the features of the area it will be laid into. It is important to offer the user comfort while standing, but also slip prevention and drainage in wet areas or fire resistance in areas where there may be a risk of sparks or fires.
The Sanitop Deluxe™ Anti-Fatigue Mat is a great example of a mat that has many sought after properties. It is designed for wet and cold enviroments, such as a food processing plant, and comes with the following features.
Fatigue relief
Anti-slip surface
Drainage for liquid and debris
Washable
Modular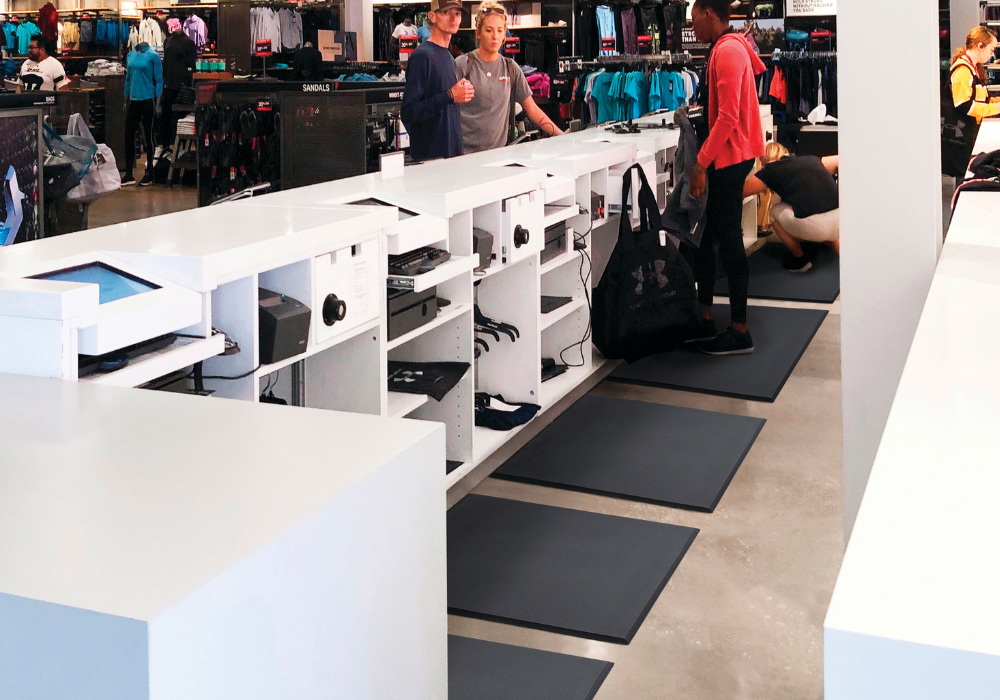 Anti-fatigue mats work well covering large areas, such as assembly lines, and as standalone mats at individual workstations. The majority of the mats come in either a stylish black or in a safety black/yellow. Bevelled edges are recommended to prevent trips or accidents from happening.
The Posture Mat Classic™ Anti-Fatigue Mat is a great example of a standalone mat which actively promotes good posture and balance for the user. The individual mats come pre-cut and sealed with bevelled edges, making them a perfect addition behing till counters, packing stations, or workbenches. The rubber surface grips the users' shoes to help prevent any slips, no matter what direction the user is walking.
For further details on the anti-fatigue mat range, contact our matting expert who is on hand to help with your selection. Call use on 0121 630 3527 or email sales@pittman.uk
FAQ
Anti-fatigue mats are thick mats designed for people who stand for long periods of time in a static position. They are generally made from rubber or foam. The purpose of an anti-fatigue mat is to offer comfort and fatigue relief to the user.
Anti-fatigue mats can cover large areas, such as assembly stations, or small areas, such as individual work stations.
Anti-fatigue mats are designed to offer comfort, stability and insulation to the user.
Comfort
The thick platform helps relieve strain on the lower limbs and can help prevent resulting disorders or injuries.
Stability
The anti-slip properties of the mats help to prevent slips or accidents. Bevelled edges help to avoid trips on the mat also.
Insulation
Anti-fatigue mats help to insulate the user from cold rising from concrete floors.
Anti-fatigue mats can offer the user more comfort and support and can help to boost user productivity.
Each anti-fatigue mat comes with individual properties that are designed for specific uses. When choosing a mat, look at the area you are placing it into.
Is it a dry, wet, or cold area?
Will it be used by heavy, medium or light traffic?
Does it need to be oil resistant?
Do you want a standalone mat or a modular mat to cover a large area?
Do you want a solid or open mat?
Our mats are broken down into categories answering each of these questions.
If you're still unsure, call our matting expert on 0121 630 3527.
Each mat comes with care and maintenance instrucations for regular cleaning. If you follow the instructions your mat should have a long life.
Contact our matting expert with any questions, to obtain a quote of for help with your at enquiry.
Our knowledgeable team is on hand to help. Call us on 0121 630 3527 or email sales@pittman.uk