Automatic bollards provide a means of preventing or allowing vehicle access by raising or collapsing automatically. Most automatic bollards will be controlled via sensors, timed settings or remote control to raise and lower when required. Authorised vehicles can approach the bollards and enter as needed, while unauthorised vehicles will be denied entry.
Automatic Bollards create a safer and more convenient means of access control for public spaces. The bollards will automatically retract or raise when needed and can be programmed to specific requirements or situations. Auto bollards are commonly used in public spaces like shopping centres, town centres, bridge entrances and government buildings and are used to deter vehicle ramming and for anti-terrorism purposes.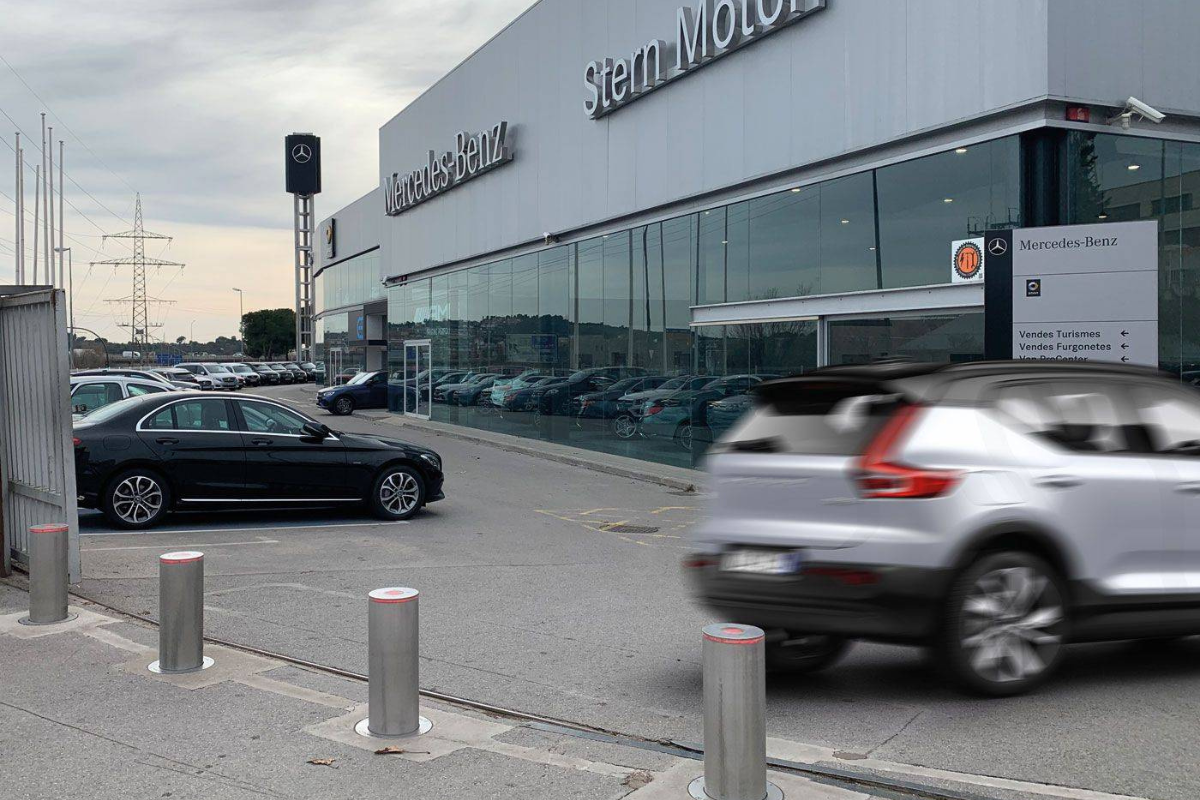 Each bollard is finished with an AISI-304 stainless steel design, providing a high-quality and professional standard finish. The bollards can be programmed to work via Bluetooth, keyfobs, license plate recognition, or set to timers to raise or retract at specific times or days of the week.
Call our sales team for more information on automatic bollards and get fast quotes on your next bollard project. 
What are automatic bollards used for?
Automatic bollards are generally used in areas where strict access control is required. They are suited to areas that require a higher level of security, such as government buildings, shopping centre fronts and public streets. While they restrict access, they can provide a convenient means for authorised vehicles to enter into an area when needed. This allows emergency vehicles to access the area when required easily. 
Automatic bollards have generally become more reliable and more sophisticated for general use in public. Newer designs now include various ways to allow and deter traffic entry, meaning that auto bollards do not require constant attention by security or parking attendants.
How do automatic bollards work?
Automatic bollards are submerged into the ground and raise or retract without the need for manual lifting. All automatic bollards are submerged via an outer casing containing the main bollard. On operation, the bollard will raise to the specified height and stop when full height is reached. 
Automatic posts are deemed incredibly safe and will not rise if a car is going over them. Additionally, the Benito Automatic Bollard 220 is equipped with LED lighting that is green or red while in use. The LED lighting will flash when raising or lowering to give plenty of notice to approaching drivers. 
The Benito automatic bollards can also lower when they detect the sound of emergency vehicle sirens, allowing for quick access when needed most.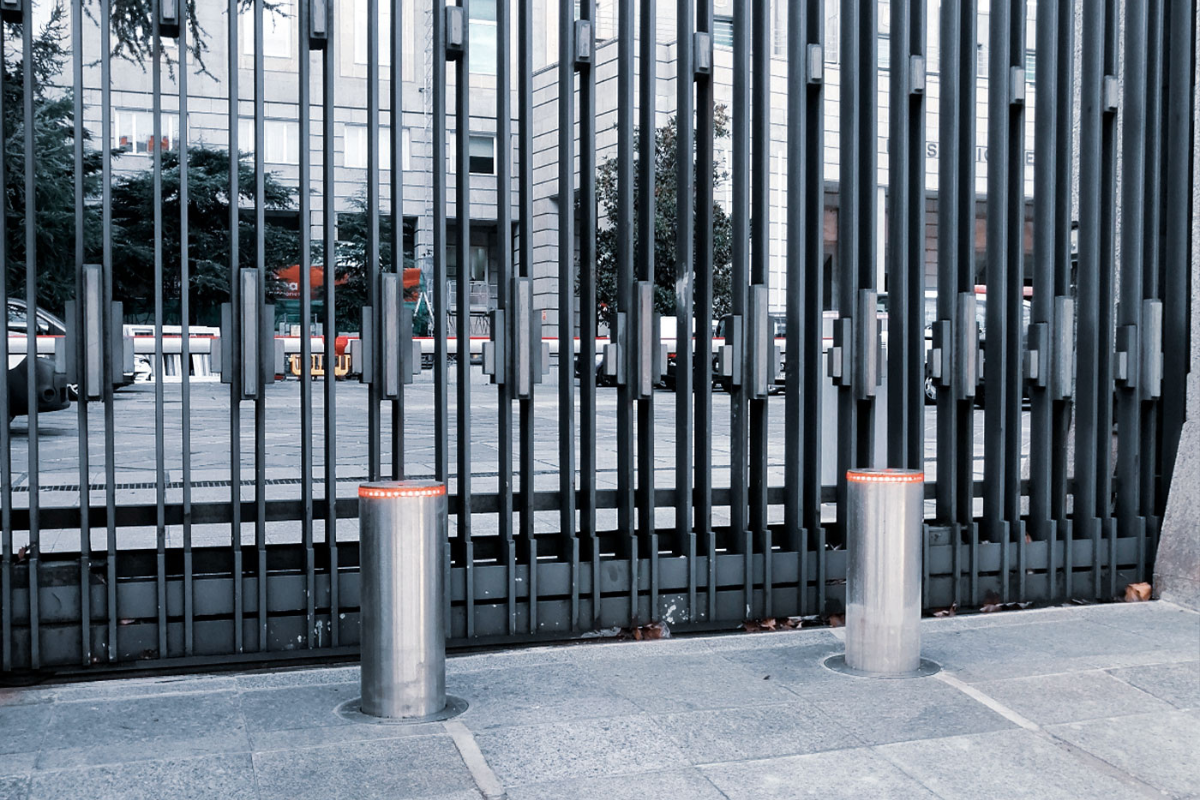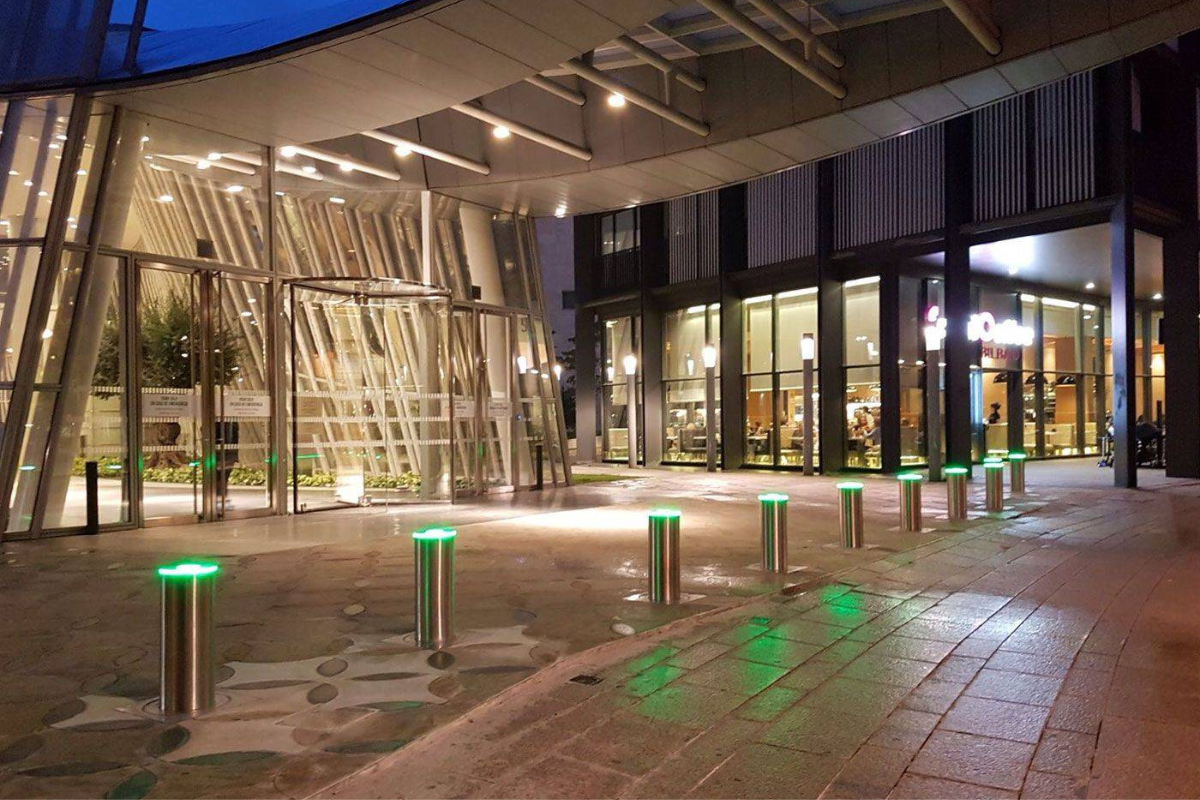 How much force can automatic bollards take?
Depending on the type of automatic bollard, it may be able to withstand certain degrees of force. This will depend on the -

Speed of the impacting vehicle
Size and thickness of the bollard
Angle at which it is being struck
General wear and tear already affecting the bollard
Most rising bollards are not made to withstand vehicle impacts. However, some versions may stop impacting vehicles at lower speeds. When purchasing rising automatic bollards check for ratings, including PAS68 or any mention of hostile vehicle mitigation (HVM) in the specifications.
Automatic Bollards FAQ
The Benito automatic bollards that we provide can retract or rise fully in as little as 7-8 seconds. They are designed for intensive use and can go through thousands of cycles without needing any maintenance.
The Benito range of automatic bollards can work in various ways including -
Bluetooth/app - a bluetooth/app setup allows the bollards to be used via most mobile phones, making it ideal for areas where are lots of motorists entering an exiting the area on a regular basis.
Keyfobs - the use of keyfobs is a typical setup for businesses or buildings with a small amount of people. The keyfobs can be distributed to the amount of staff needed and the bollard can be activated with the press of a button.
License plate recognition - the Benito automatic bollards system can be equipped with a license plate recognition system that quickly scans license plates to allow entry. There is no limit with how many licenses that can be added to the system.
Time and date programme - The auto bollards system can be manually set to be raised or lowered at specific times or days. This is ideal for urban spaces where you may want to allow access for overnight deliveries, deny vehicle access onto public streets during daylight hours etc.
Emergency vehicle access - the Benito range of automatic bollards include a feature that will detect emergency vehicle sirens to immediately grant them access.
The Benito Automatic bollards use a hydraulic system to raise and lower the bollard. They are raised and lowered via the 6 methods as mentioned before.
Semi-automatic bollards, however, are raised using a gas-assist system. To raise the bollards the user will turn a key in the top of the bollard and the bollard will raise automatically. The bollards must then be lowered into the ground manually.
PAS 68 is an impact performance test that bollards and barriers go through to determine their effectiveness in hostile vehicle mitigation (HMV). The PAS 68 rating means that the bollards have been impact tested against specific vehicle types at specific speeds. Different ratings are available based on different speeds and vehicle types.
Our automatic bollards are made from 304 grade brushed stainless steel. The brushed design reduces the risk of scratches on the bollard during use and helps to maintain a smooth operation at all times.
Our Benito Automatic bollards do not require oil over time and can cycle approximately 500,000 times without any maintenance required. It is advised that dirt and debris is cleaned regularly to maintain as smooth an operation as possible.
Yes, our automatic bollards can still operate after impact. Unlike competitor designs, the Benito bollards do not have an internal core. The internal cores seen on competitor products may prevent the mechanisms from working if they are damaged and may therefore prevent the bollard from retracting.
Benito bollards, however, have no core and are known to operate normally, even after certain impacts.
Choose the Benito hydraulic bollard designs because they are -
Made with a more cost-effective design
Better suited to intense use
Made with a thicker wall for higher resistance to vehicle impacts
Before quoting on automatic bollards please consider the below questions so we can get a better idea of your project.
What is your project budget?
How many access points do you have?
How many bollards do you require per gate/access point?
Please call our sales team on 0121 630 3521for advice on your automatic bollard project.
The sensors are located at the top of our Benito automatic bollards. This helps to reduce the effect of rain and ensures that the bollards won't be affected by standing water at the base of the bollard.