Wheel chocks are wedges placed behind vehicle wheels to prevent the vehicle from accidentally rolling. They are often used to double up on vehicle protection where the handbrake is not strong enough or if vehicles are parked on an incline. Once wedged in behind or in front of wheels, the chocks will reduce the risk of accidental movement, damage or injury.
Use vehicle chocks with cars, trailers, caravans, HGVs, aircraft and more. Rubber chocks are suitable for almost any vehicle type. The larger the vehicle, the heavier the chock will need to be. Parking chocks can often include chains to bolt down for permanent use within that area. 

While the chocks are behind the vehicle wheel, they will prevent the car from rolling. In addition, they often come with gripped or ribbed surfaces for increased grip against the vehicle tyres. The tyres should fit snugly against the chock and it should not be too small for the tyre or the vehicle's weight.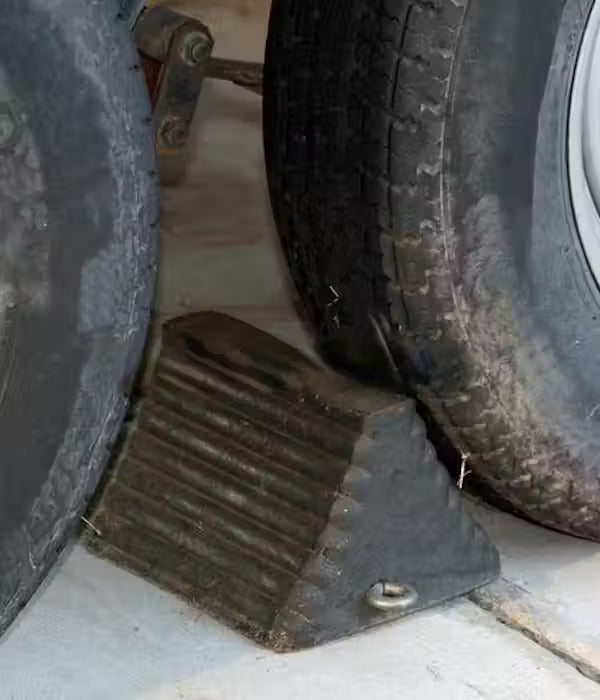 Why use rubber vehicle chocks?
Rubber chocks provide many benefits while in use.
Prevent vehicles from rolling - while the vehicle chocks are in place, they will stop vehicles from moving out of position, meaning better on-site safety.
Prevent vehicle collisions - when vehicles are immobilised, they are less likely to collide with other vehicles. Chocking will help to prevent vehicle damage and reduce expensive vehicle repairs.
Protect pedestrians from harm - rolling vehicles could result in severe injury to pedestrians. Pedestrians may include on-site workers, visitors, vehicle mechanics and more.
Suitable where brakes are not good enough - some vehicle braking systems may not be good enough to hold certain weights, especially on inclines. Truck chocks can prevent crewless vehicle trailers from rolling while stored or under maintenance.
How to choose the correct tire chocks
Before installing tire chocks, ensure you check the following.
Carry out a risk assessment of the area - before installation, be sure to check the entire site. Note any hazards, risks or details that may help determine what you require for the area. Is the vehicle on an incline? How many vehicles are passing through the site regularly? 
Determine what vehicles you are trying to chock - it is crucial to know the vehicles' sizes, weights, and dimensions in question, especially when looking for truck wheel chocks. Having the correct details will make selecting the right chocks easier.
For aircraft wheel chocks consult airline-specific guidelines regarding any specifications required for chocking.
Ensure the chock matches the requirements - all chocks come with max loading weights. Know how heavy your vehicles are, and make sure the specifications match the vehicle weight. Chocks that are too light for the vehicle risk breaking and allowing it to move.
How often will the chocks be required - some products include chain eyes to provide more permanent fixing to the ground. They are highly suitable for busy freight depots or runways. However, if vehicles are parking in specified parking bays and nearby assets need to be protected, wheel stops may suit the area better.