At Pittman® we specialise in modular rubber speed bumps – the favoured choice for traffic calming in the UK. Speed bumps are just one of the modular rubber traffic calming systems that we offer: others include speed humps, speed cushions, temporary speed bumps and speed tables.
What is the purpose of speed bumps?
Speed bumps are used to slow vehicle traffic. The bump they cause deter drivers from driving over them at high speeds.
A speed cushion or speed table will provide a less severe bump. This will slow traffic considerably but not to a near stop like speed bumps would. This is ideal for urban settings where traffic needs to remain flowing.
How to install speed bumps?
Speed bumps can be bolted directly into the ground for instant traffic calming. Modular speed bumps are very easy to install and are much more cost-effective than concrete speed bumps.
Road bumps deter cars from speeding. The bump causes a car to jolt uncomfortably if driven over too quickly. Use a road bump where there is immediate danger to pedestrians or build up areas.
Why use a modular rubber traffic calming system?
Rubber speed bumps have distinct advantages over a concrete or tarmac formed speed ramp. The precise moulding on a rubber bump means the height is uniform across the width of the speed bump and speed is regulated exactly. There is a great difference on the deflection achieved by a 50mm speed bump and an irregularly formed 30mm concrete version. Remember also rubber speed bumps will not chip, rot or crack. The modular sections are easily replaced if damaged or worn, whereas repairing a tarmac speed bump is very problematic. Foremost is the ease of installation of rubber speed bumps – supplied in modular bolt-down sections – fitting is fast, safe and less disruptive than forming a speed ramp from concrete or tarmac.
We believe we have the widest and best range of speed bumps in UK:
JSP Ridgeback Speed Bump Kit 75mm - extreme height, for areas with immediate danger to pedestrians
XPT Berlin Speed Cushion – for areas with mixed HGV and cars with a visual and physical speed deterrent
XPT Modular Rubber Pedestrian Crossing Speed Table - reduce urban traffic speed and provide a safe pedestrian crossing
Email our sales team for any assistance or advise choosing the best traffic calming system for your property at sales@pittman.uk
How to choose the right speed bump
Will it need to cater to trucks, buses, or cars? Do emergency vehicles use the road regularly, and can they pass over it with little or no restriction to their speed? Different vehicles have different requirements, so you should know which vehicles are on the road.
The height and width will significantly differ in the impact on speed. For example, a 30mm section generally allows vehicles to pass over the ramp at 15 - 20mph comfortably. In contrast, a 75mm ramp will reduce vehicle speeds dramatically and should only be used where there is a significant risk to pedestrians.
The road surface may affect the fixings you will use for your road bump. Concrete and asphalt roads may need different fixings, while some suppliers (including Pittman) use universal fixtures to suit the majority of road surfaces.
Speed Bumps FAQ
There are many advantages to installing modular rubber road bumps:
Precise moulding of sections provides a uniform height and design of the bump
More cost-effective in terms of labour and materials
Easier installation than concrete or tarmac options
Easier to replace sections if they become damaged or worn
Less disruptive to the area during installation – can be used immediately
Better visibility than most concrete or tarmac versions
Manufactured from recycled material
For installation you will need
Precise measurements of the area
Assessment of the traffic in the area
A bump suited to the traffic and vehicle types travelling through the area

Modular rubber systems are much easier to install than concrete or tarmac designs. To install, mark the area for each section (using the pre-drilled holes) and drill the required depth for the fixing. Next, insert the required piece (end-cap or mid-section) and tighten it. Once installed, the bumps can be used immediately. Ensure all works are completed following traffic and safety guidelines.
A speed ramp is a strip of rubber sections that are installed on roads to slow motorists down. These bumps deter cars from going too fast over them. If drivers are too fast they risk damaging their car. 

Speed ramps is also an alternative name for speed bumps. Speed ramps and speed bumps will slow vehicle traffic to reduce the risk of traffic accidents.
When installed correctly, rubber speed ramps can last for many years. However, their lifespan depends on the installation and the type & volume of traffic on the road. Call the team at Pittman to help choose the best product for the job.

Rubber can maintain better shape than concrete over time. Modular sections are also easily replaced if they become worn or damaged. If installing multiple traffic calming measures, it is advised that the layout includes at least one vehicle's length between them.
The height and width of the bump will determine how fast you can drive over it. A 50mm bump will slow vehicles to around 10mph. A higher 75mm incline will cause drivers to slow to around 5mph. A speed cushion can offer an easier, more gradual bump – they generally slow traffic to 15-20 mph. These kinds of bumps are better suited to city and town environments. 
Traffic bumps should not be avoided. Drivers should not swerve or enter into other lanes to avoid the bump. In order to deal with it drivers should slow to the appropriate traffic speed. The spaces at the centre or sides of the road bumps are for drainage and help to keep the surface clear of standing water or snow.
Speed Bumps:
Instant bump designed to slow traffic down instantly
Effective for controlling speeds at low traffic volumes
Shorter from front to back
Not ideal for emergency vehicles and coaches
Common in car parks and private car parking premises
Slows traffic to approximately 5 - 10 mph
Speed Humps:
Gradual bumps that are designed to slow traffic to a considerable speed
Effective for controlling speeds at high traffic volumes
Longer from front to back
Ideal for emergency vehicles and coaches
Common on public roads
Slows traffic to approximately 15 - 20mph.
Call our experts for advice on our range of speed bumps and speed humps.
Traffic calming refers to the reduction of vehicle speed on public roads. Road bumps, cushions and tables are vital traffic calming and speed control devices.

Traffic calming is a common term used among government bodies and councils. It's aim is to decrease vehicle speeds to reduce the risk of traffic accidents and takes vehicles, pedestrians and cyclists into consideration.
JSP® Ridgeback Installation Guide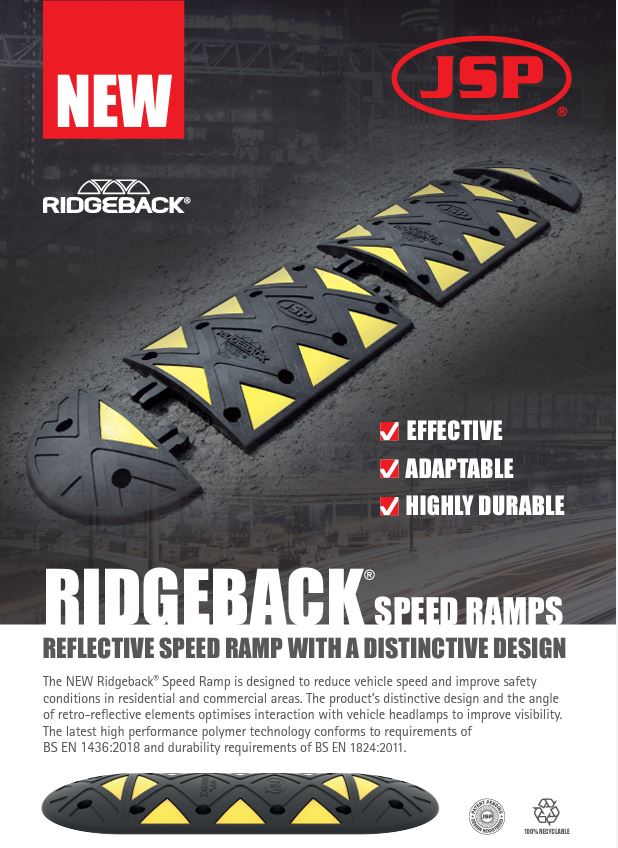 Pittman Guides
JSP Ridgeback for faster installation and increased visibility
Having the appropriate traffic calming systems in place helps to reduce the risk of accidents on roads and in car parks. Learn more about how speed bumps can help reduce speed.
Download Guide Now