Choose Your Warehouse Protection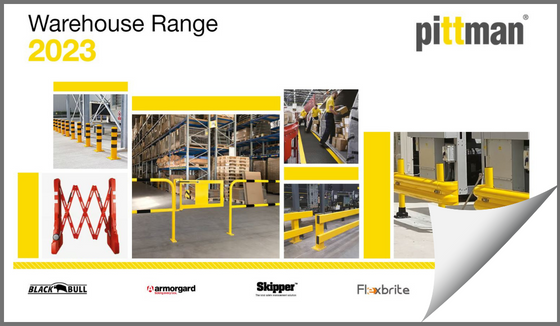 Pittman® Warehouse Range 2023
See our full range of warehouse protection guards with fast delivery on stock items. View our digital warehouse catalogue now.
View Warehouse Catalogue
When it comes to protecting assets and providing the best in health and safety standards it is crucial to have the best equipment installed. At Pittman, we have the best in warehouse protection products, ranging from high-quality loading bay protection products, warehouse barriers, column protectors, warehouse railings and more. Install warehouse protection systems today to ensure employees have safe passage to and from sites in a warehouse or to protect nearby columns, corners or racking from nearby machinery or vehicles in use in the area.
What kind of warehouse products do I need for my warehouse?
Use Pittman warehouse bollards to protect nearby assets from vehicle impact should it occur. The Black Bull Warehouse Bollards come in various sizes and formats including bolt down and concrete-in options. These high-quality warehouse bollards can be installed quickly and easily onto the site and will provide instant protection.
If you need warehouse railings our warehouse industrial railings are ideal for almost any industrial typesetting and will provide protection to both assets and pedestrians who may be traversing through a busy warehouse area. Products like the Black Bull Heavy Duty Railing System - Indoor can be installed in almost no time at all, giving you instant protection for your warehouse. These railings can be installed along walkways in warehouse-type environments to separate pedestrians from dangerous machinery or active forklifts etc. Each piece of the warehouse railings is made from tough galvanised steel and will provide lasting protection for the busiest of environments. Should pieces of the railings become damaged they can also be easily replaced.
For protecting pallet racking we also have many types of rack protectors that again can be installed quickly and easily into the ground, helping to protect stock and assets from the likes of pallet trucks, forklifts or reach trucks. The Black Bull Steel Corner Protection Guard can be installed onto the site quickly and easily and the 90° format of the guard makes them perfect for protecting exposed parts of pallet racking, columns, corners and more.