types of wheel stops


Plastic Wheel Stops
Made with a tough PPC plastic material for a hard-wearing design. Plastic wheel stops will not chip, rot or crack while in use. They are highly durable and suitable for use with cars and vans only. The plastic design reduces flexibility so they are only suitable for level surfaces. The non-reflective design also means that they are suitable for well-lit environments.

Steel Wheel Stops
Steel is a highly suitable material for truck wheel stops, ideal for heavy duty requirements. Truck wheel stops are common in warehouses, freight depots and most other industrial settings. Additionally, they can be used as wheel guides for truck parking bays, with a higher profile to suit HGVs and articulated lorries.

Wheel Chocks
Wheel chocks are used to prevent vehicles from accidentally rolling. They can be used with cars and vans but are more common with HGVs, trailers, aircraft, and other large vehicles. Wheel chocks are available in rubber and plastic and are loose lay for easy insertion and removal from behind vehicle wheels. Some options can be equipped with chains to bolt them down into the area of use, such as loading bays or airport aprons.
Pittman® offers the largest range of wheel stops in both rubber and steel. Our Park It rubber wheel stops from GNR are the preferred choice of car park operators, retail parks, airports, commercial and industrial sites. Our steel wheel stops are the first call for warehouse and distribution sectors already installed in many distribution centres and car parks around the country.
Why Pittman for wheel stops?
Large stocks of both rubber and steel wheel stops
Fast delivery to site
Expert advice on choosing the right parking block
Unbeatable prices
We'll give you the right fixings/bolts for your parking blocks
Why use rubber wheel stops
Rubber wheel stops are much more durable than concrete designs. The rubber design is also much more cost-effective to install or replace if needed.
Wheel stops are one of our biggest selling ranges at PITTMAN. We keep large stocks of GNR rubber Park It rubber wheel stops at our main warehouse so that they are ready for collection or overnight delivery nationwide. Our steel wheel stops come directly from the manufacturer, and are again available for speedy delivery to any site nationwide, normally in 2 to 3 days but express options are also possible.
For HGVs and larger vehicles you will require truck wheel stops. Truck wheel stops are a rubber kerb designed to stop trucks from colliding in loading bays. A single wheel stop will be required for each vehicle wheel.
For any queries regarding choosing the right wheel stop, email our friendly expert advisers at sales@pittmantraffic.com.

As we bring in the GNR Park IT Wheel Stops directly from the manufacturer in North America into our warehouse, we can offer unbeatable prices on a genuine rubber wheel stop.
How to install wheel stops
Fixing your wheel stop in place is simple with our wide range of manufacturer approved bolts for both concrete and tarmac. Installation into either surface is straightforward. A little more investigation and care is needed when installing parking kerbs into paving or cobble block. For these special surfaces we have found some success with either the concrete or the tarmac fixing, but in truth maybe some trial and error for paving slab surfaces - it's best to call us for advice on installation into block or paving surfaces.
Whatever type of parking area you have call Pittman®, your trusted traffic and safety partner, for your next supply of rubber or steel wheel stops.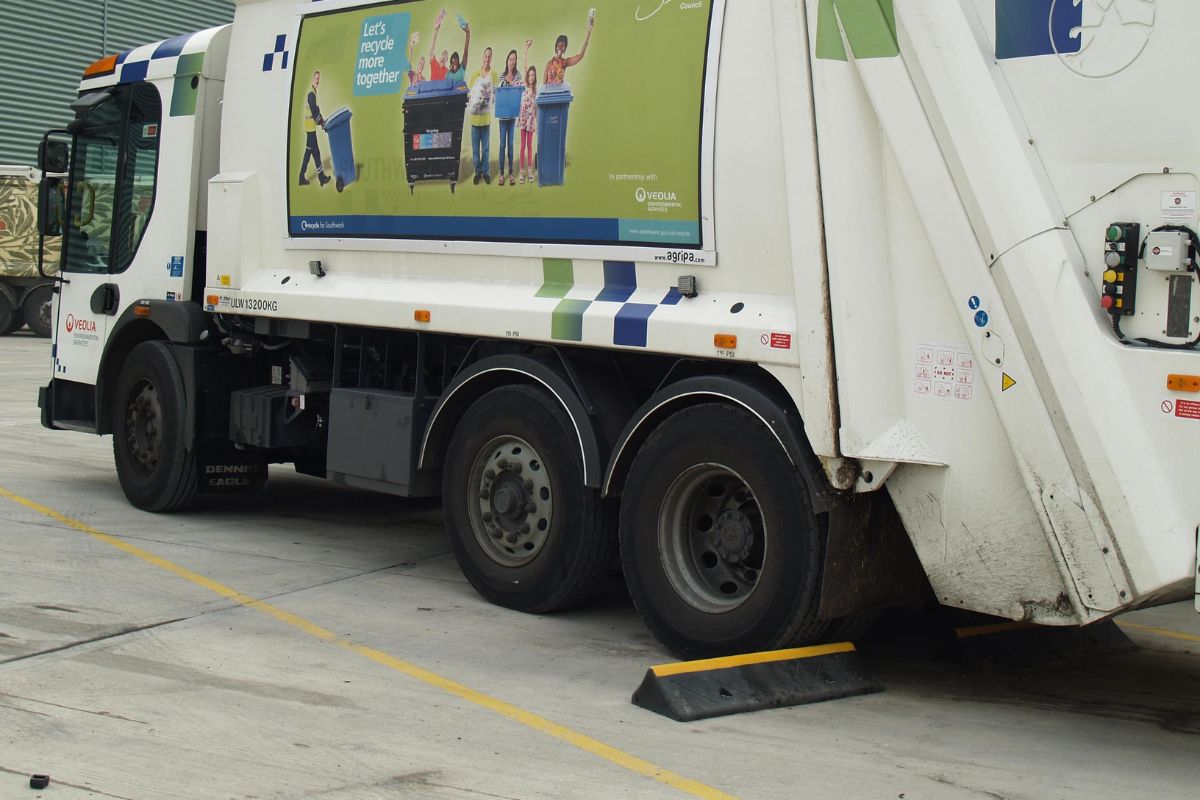 How to Choose the Right Wheel Stop
It's important to note what vehicles the wheel stops are required for. Most standard rubber wheel stops will suffice for cars or vans, but HGVs will require a more robust option due to the size and weight of the vehicle wheels.
Are you installing wheel stops in a car park? Or are you trying to bring vehicles to a halt within loading bays? The area will play a big role in what kind of wheel stops you need for your project. Tougher environments will require tougher wheel stops.
Be sure to note the surface type and integrity before installing wheel stops. Wheel stops are generally fine to install on concrete or tarmac but are not recommended into block paving. Complete a thorough risk assessment of the area and note any other obstacles or hazards that could effect the use of the wheel stops.
Wheel Stops FAQ
Install wheel stops easily using standard tools. For installation, you will need – 
A drill
Appropriate sized drillbit
Measuring tape or measuring wheel
There are six easy steps to follow when installing wheel stops.

Assess the area for any obstructions or dangers
Place the wheel stop approximately 900mm from the top of the parking space
Mark the holes of the wheel stop using the drill and drillbit
Once the holes are marked, remove the wheel stop 
Drill the appropriate size holes for each fixing (standard is approximately 160mm deep)
Insert the wheel stop back into place and tighten fixings into position
Most wheel stops are suitable for installing into concrete or tarmac. However, it is advised never to install wheel stops into block paving. 
There are several measures you can take to make sure wheel stops are not a trip hazard. First, ensure the area is well lit - the wheel stops need to be highly visible at all times, especially at night. Second, only install them in areas with prominent parking spaces in use. Finally, ensure you are purchasing wheel stops with reflective markings for increased visibility.
Rubber wheel stops should have their reflective markings moulded on. The XPT wheel stops come with high quality moulded markings for increased visibility and resistance to wear. Avoid cheaper alternatives that have markings glued on. Adhesive markings are more likely to come off over time.
The amount of wheel stops you need will depend on the vehicle and the type of wheel stop you require on site.
Generally, 1800mm (6 foot) long wheel stops can cover a single parking space for cars. Smaller sizes (1200mm and 900mm) can help cover larger parking spaces, ensuring that each vehicle wheel makes contact with the rubber kerbing.
HGVs will require a set of two wheel stops per parking bay.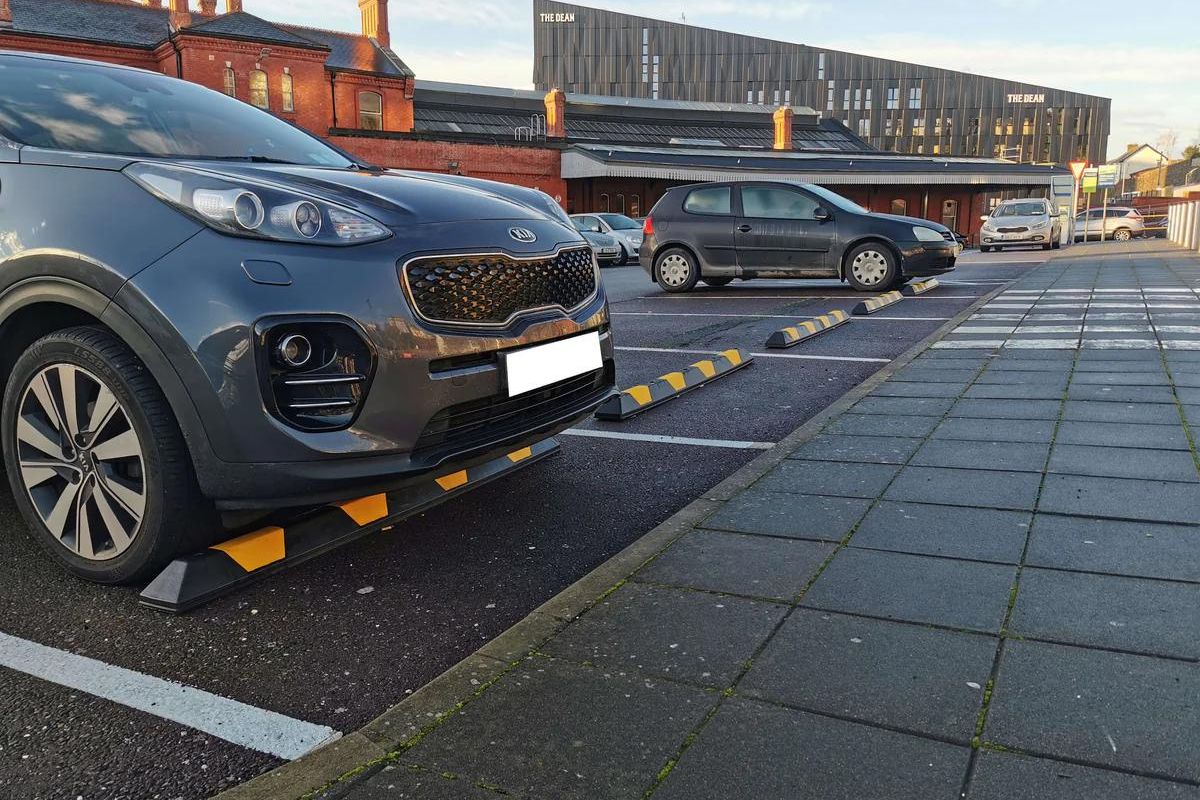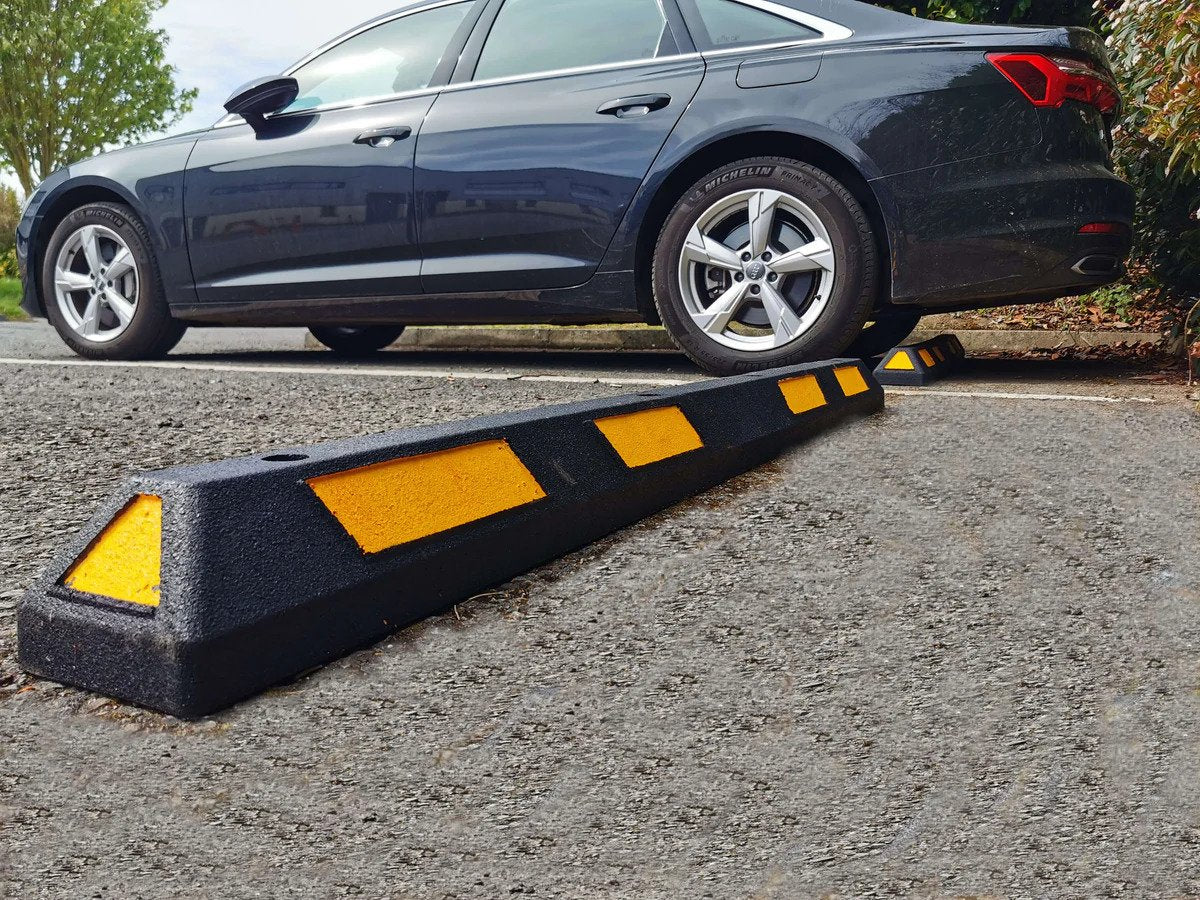 Top Tips for Wheel Stops
Avoid concrete wheel stops – rubber or plastic wheel stops are easier to replace and more cost-effective
Never install wheel stops into block paving – only concrete or tarmac surfaces are suitable
You should not drive over wheel stops - this is not their intended purpose
160mm coachscrews are ideal for installing into concrete and tarmac
Install wheel stops approximately 900mm back from the head of the parking space or object
Moulded markings provide a longer-lasting hi-vis design – avoid cheaper models that have their markings glued on
HGV wheel stops include a shorter side to prevent vehicles from becoming stranded
Wheel stops may appear by other names, including wheel stoppers, car stoppers, parking kerbs, tyre stoppers and parking blocks.
Wheel Stops to Protect EV Charging Stations
 Wheel stops have become a standard item in protecting EV charging stations. The kerbs can reduce the risk of impact to chargers and reduce expensive repair costs. In addition, the wheel stops are often coupled with bollards, correct signage and ground markings to ensure a high-quality experience with electric vehicle owners.
Use wheel stops at EV charging stations to –
Reduce the risk of impact to EV charging equipment
Reduce the risk of damage to electric vehicles
Provide a visual aid for drivers to park at charging stations correctly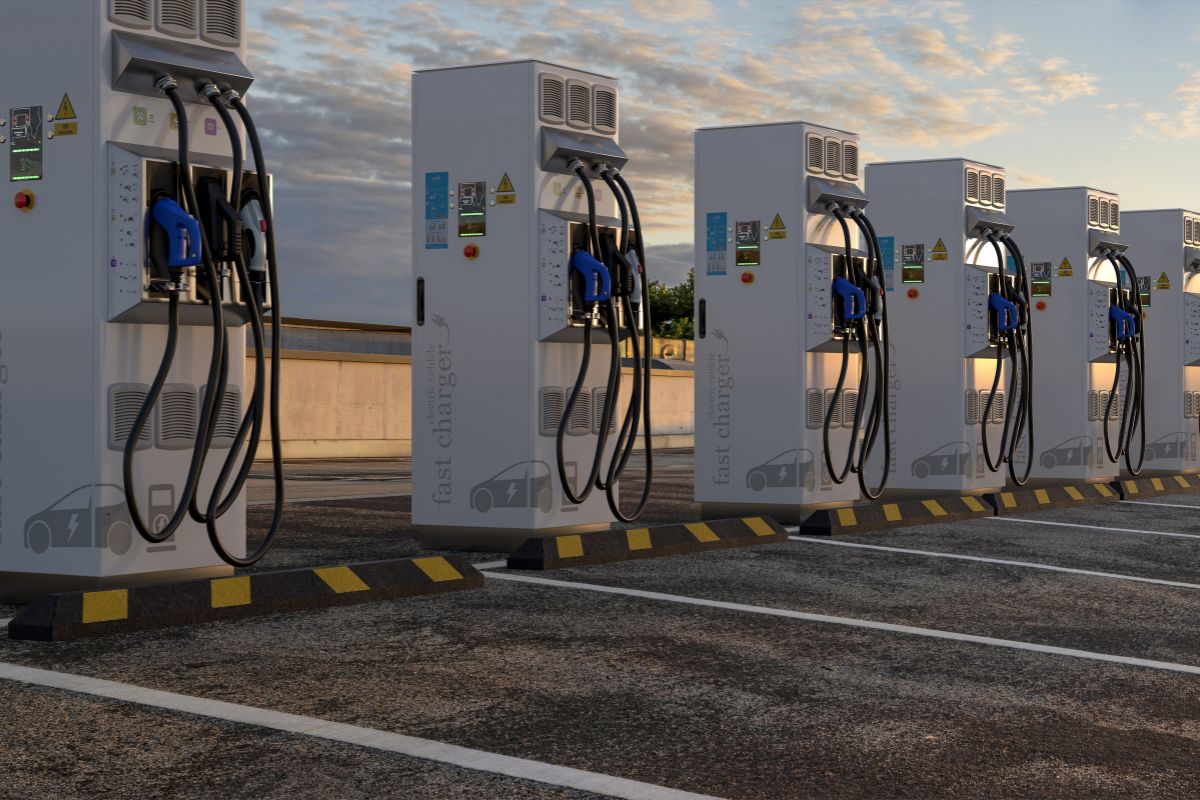 Truck Wheel Stops to Reduce Accidents in Busy Freight Depots
Truck wheel stops assist with bringing articulated lorries to a halt within parking bays. They will reduce the risk of vehicle collisions and damage to warehouse infrastructure.
There are a few key things to remember about installing truck wheel stops.
Two wheel stops per parking bay – 1 unit required per wheel
Includes a shorter side to allow for vehicle rollback, reducing the risk of stranded vehicles
Highly visible moulded markings to help drivers line up correctly
Suitable for installing into concrete or tarmac
Ideal for long term use – will not bend or deform during use