Hoop Barrier Best Sellers
Hoop barriers are steel hoops used to protect warehouse employees, assets or infrastructure. The hoop barriers are commonly placed on machinery or pedestrian walkways to help prevent collisions in the workplace. In addition, barriers can help guide work vehicles or deny them access to particular warehouse areas.

The hoops can be installed adjacent or parallel to forklift operating areas and will help to distinguish designated pedestrian & vehicle areas. In addition, a superior barrier design will make it easier for all warehouse workers to see where particular zones end or begin, instantly boosting safety for the warehouse.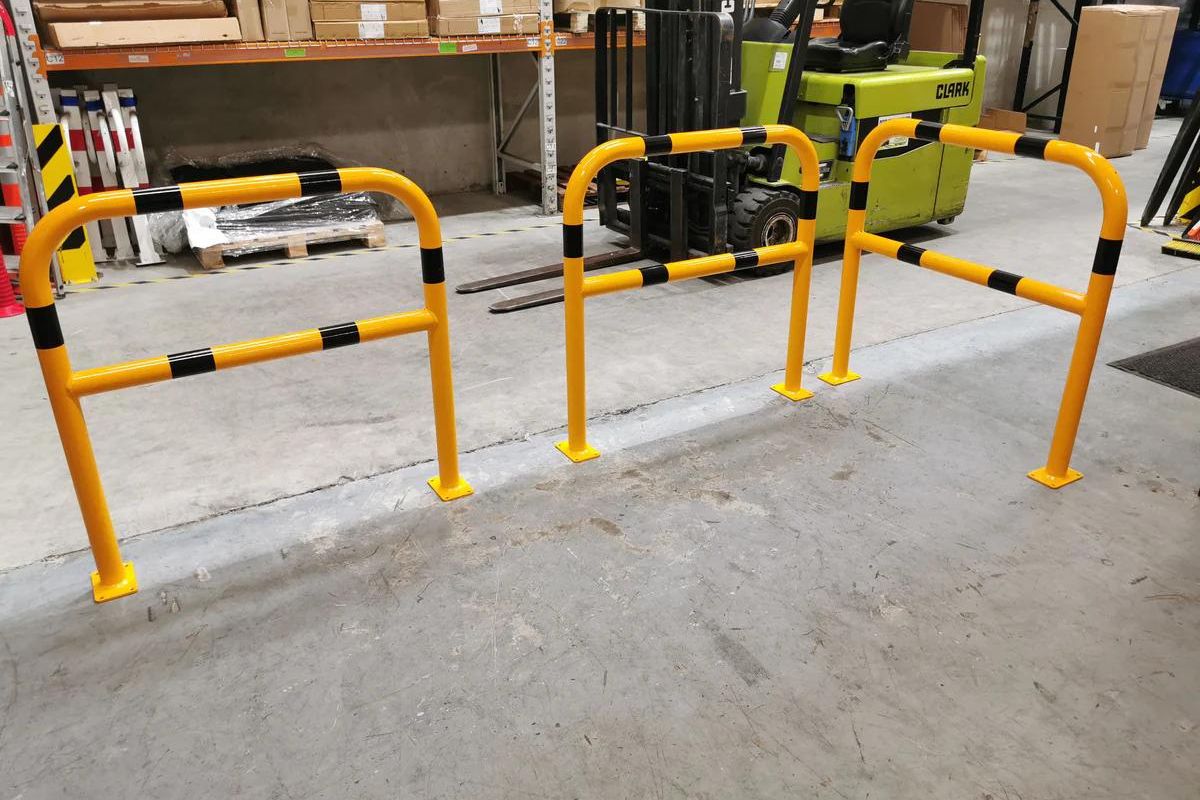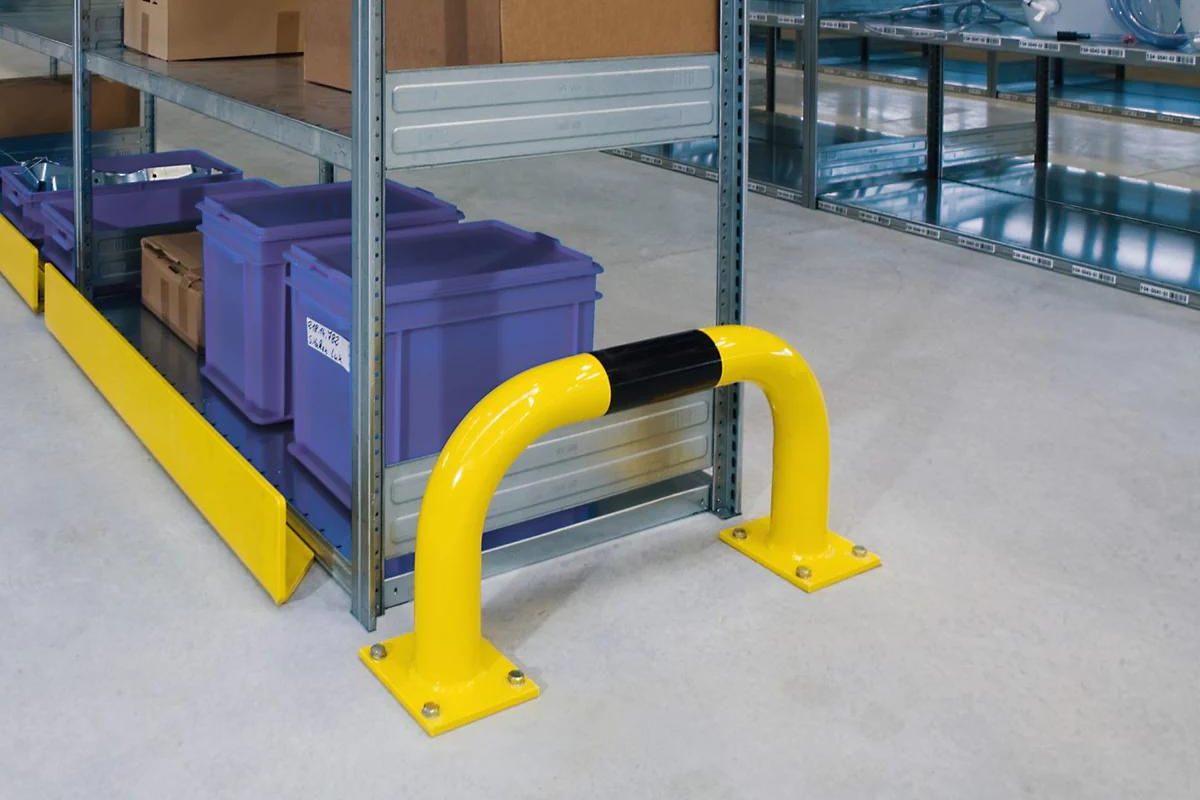 What is the most popular hoop barrier?
One of the most popular options is the Black Bull Hoop Guard range. These German-made barrier hoops are made with an excellent grade of steel and is available in an indoor or outdoor version.
Each hoop is powder-coated yellow and includes black bands to make them stand out in the busiest of warehouse environments. Each warehouse barrier is also available in various sizes to allow you to cater for various warehouse types. The outdoor versions of the hoops have also been additionally hot-dip galvanised - this helps to prevent rusting and corroding while in use, even if they become chipped or scratched.
For light-duty use, we also have the Black Bull Steel Hoop Guards Light Duty - perfect for indoor areas with lighter levels of work vehicle traffic.
How are steel hoop barriers installed?
Our hoop barriers are installed via the integral base plates at the bottom of each barrier leg - simply bolt into place with ease on site.
Is there a warehouse hoop barrier that can protect corners and pillars?
If you need to protect corners, pillars and other similar places we would recommend the Black Bull Steel Corner Protection Guard. These 3-sided warehouse hoops allow you to protect 90-degree corners and angles, providing protection against bumps and bangs from nearby equipment and machinery - ideal for the busiest of warehouses. Again these hoops are available in indoor and outdoor versions and are available in various different sizes, allowing you to protect the most important assets and equipment in your warehouse.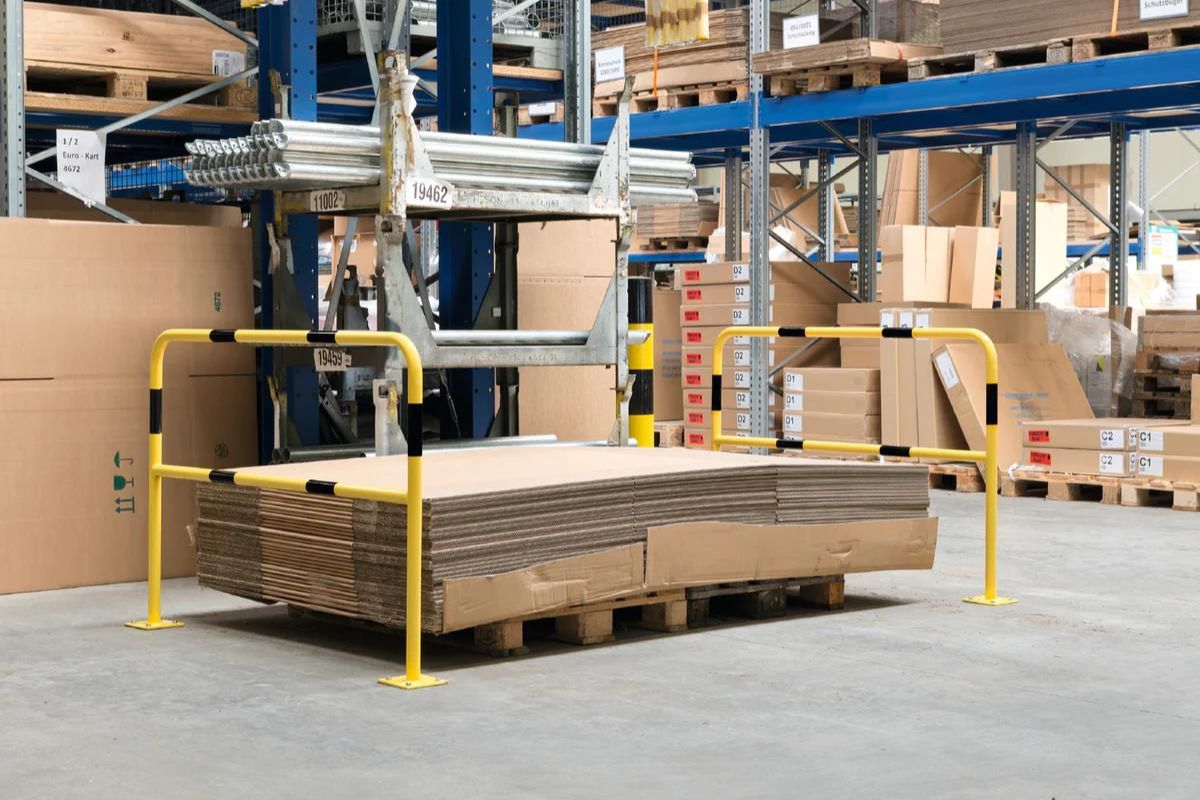 Hoop Barriers FAQ
Protect employees from harm - Hoop barriers will provide a clear barricade between work vehicles and pedestrians. In addition, they will provide a safe place for pedestrians to walk while ensuring vehicle users keep within their area. 
Protect assets from damage - While in place they can protect assets and machinery against impact. The hoop guards may take several hits but will help deflect or block impacting vehicles. Use hoop barriers for rack protection, wall protection or column protection.
Reduce expensive repair costs - Deflecting vehicle impacts away from assets can help reduce costly repairs. Repairs apply to both the vehicles and the infrastructure in question.
Create clear guides for vehicle users - Use hoop barriers to guide vehicles correctly around a warehouse. They can help drivers identify out of bounds areas and can be used in conjunction with one-way systems to direct vehicles as needed.
Pedestrian walkways - Install the barriers parallel with walkways to protect pedestrians from work vehicles and guide them. Combine warehouse bollards with the hoops to fill in spaces and allow pedestrians to move through where needed. Removable hoop barriers can also allow access to an area when required.
Exposed machinery - Barriers can help to reduce the risk of impact damage to machines and other assets. Install the hoops alongside the machines to alert drivers to their presence and avoid costly damages.
Exposed pillars or columns - Install the hoops beside or completely around columns or posts. Specially designed hoops like the Black Bull Steel Corner Protection Guard can guard 90-degree corners against damage.
Most warehouse hoops are suitable for stopping work vehicle impacts if they are travelling at slow speeds. It should be noted that most static barriers are not designed for repeated or heavy impacts.