Post and Chain Barriers are extensively used to mark, delineate or block off an area. Chain Post Sets are handy ways for utility crews to block off larger areas than may be achieve with portable barriers, thanks to the wide areas that can be covered by chain.
Our MegaMax Chain Post set is ideal for blocking off wide sections of car parks, warehouses or sports stadiums on a temporary or semi-permanent basis. Coming with 6 large high visibility reflective posts and 25 metres of red/white tough plastic chain – this chain post set is tough, hi-vis and versatile. If operating outside or in windy conditions make sure to fill the bases with gravel or sand for stability, or leave un-filled for indoor use while leaving the posts lightweight and easy to move.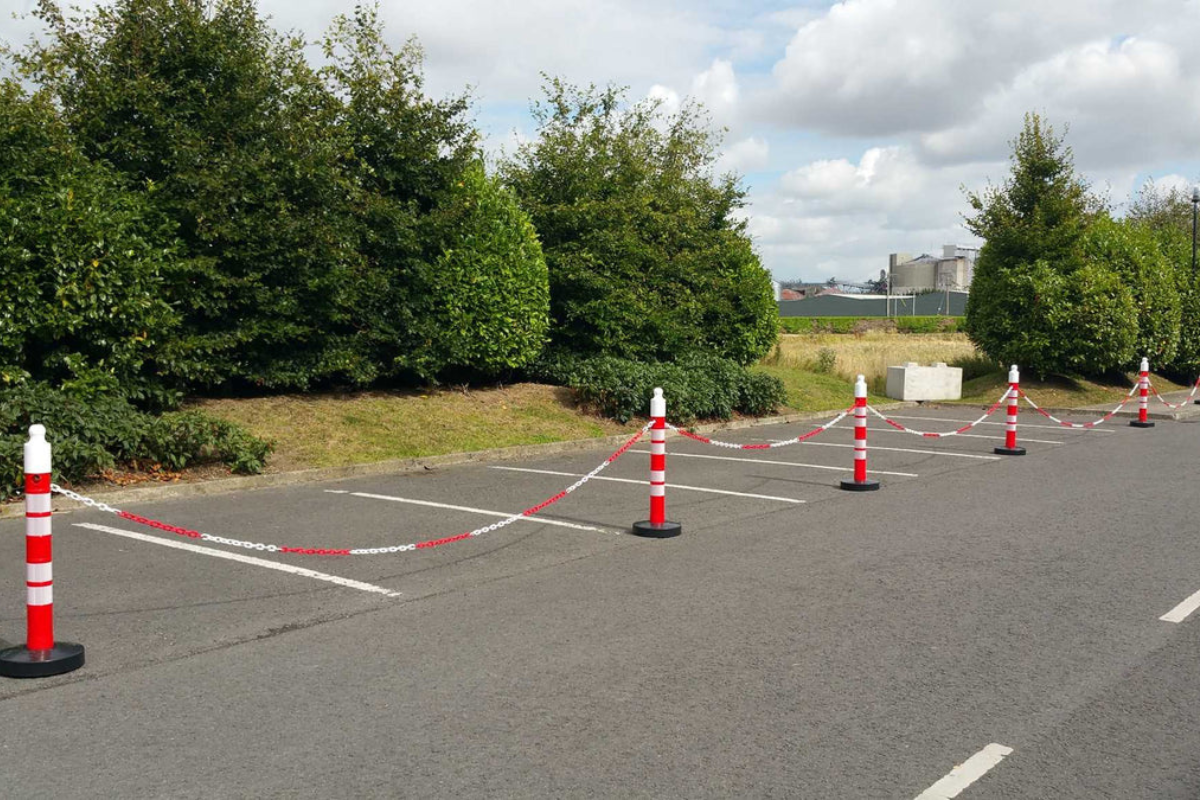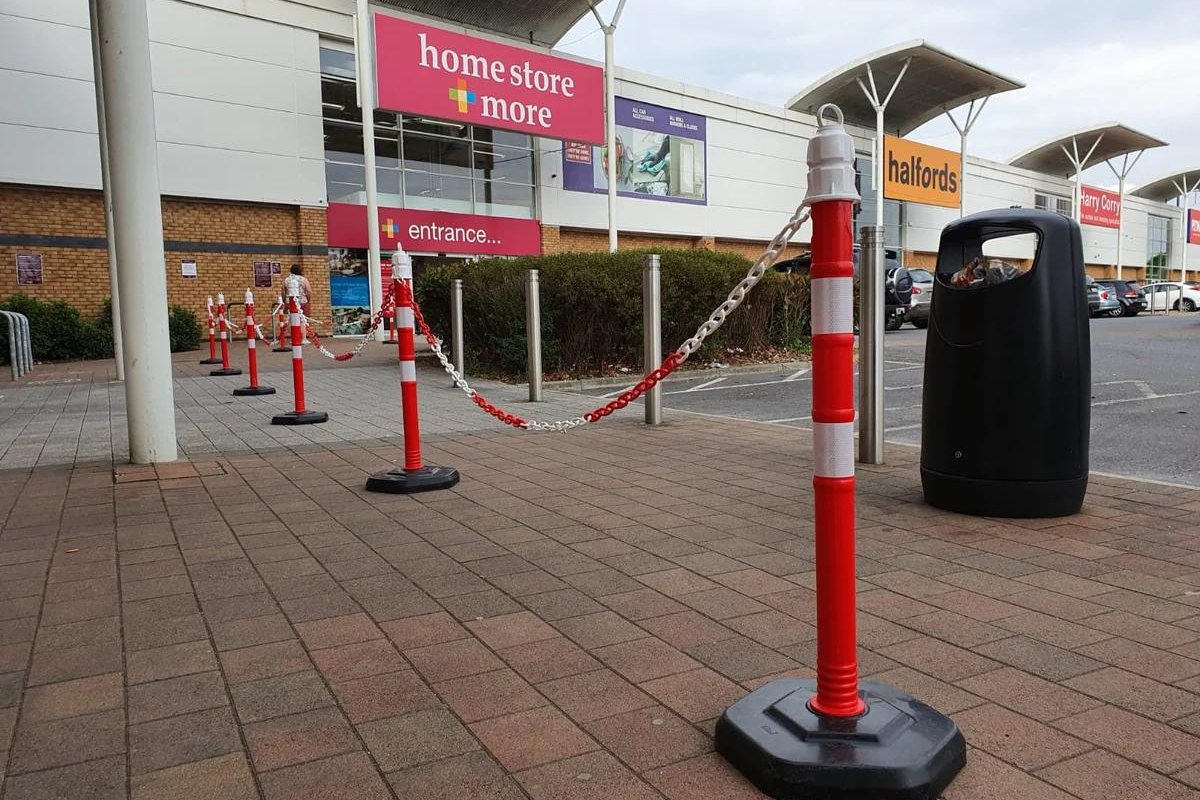 For smaller areas consider our Guarda chain post set which comes in a range of colours: red/white or yellow/black and a selection of base options. The most popular combination is our red/white Guarda chain post set with concrete bases. Compact enough to keep in the back of engineers vans, this chain post set is highly portable and quick to deploy covering 10 Metres of area.
For a permanent solution have a look at our AUTOBAHN range of steel bollards – two of which come with chain eyes as standard. For small car parks or pedestrian areas the Autobahn Navan removable bollards comes fitted with two chain eyes and can be easily installed into concrete . They can then be combined with our selection of steel or plastic chain lengths.
For a permanent and removable bollard with chain eyes our Navan Removable Bollard is galvanised and powder coated for long lasting life and comes with three reflective bands for high visibility. Complete with a triangular lock mechanism and ground socket, this bollard with chain eyes can be removed for temporary access to the area – a favourite with school car parks or garage forecourts.
Whether portable or fixed, permanent or temporary, Pittman® has the widest range of chain post barriers – get in touch with our team today for fast quotes and expert advice.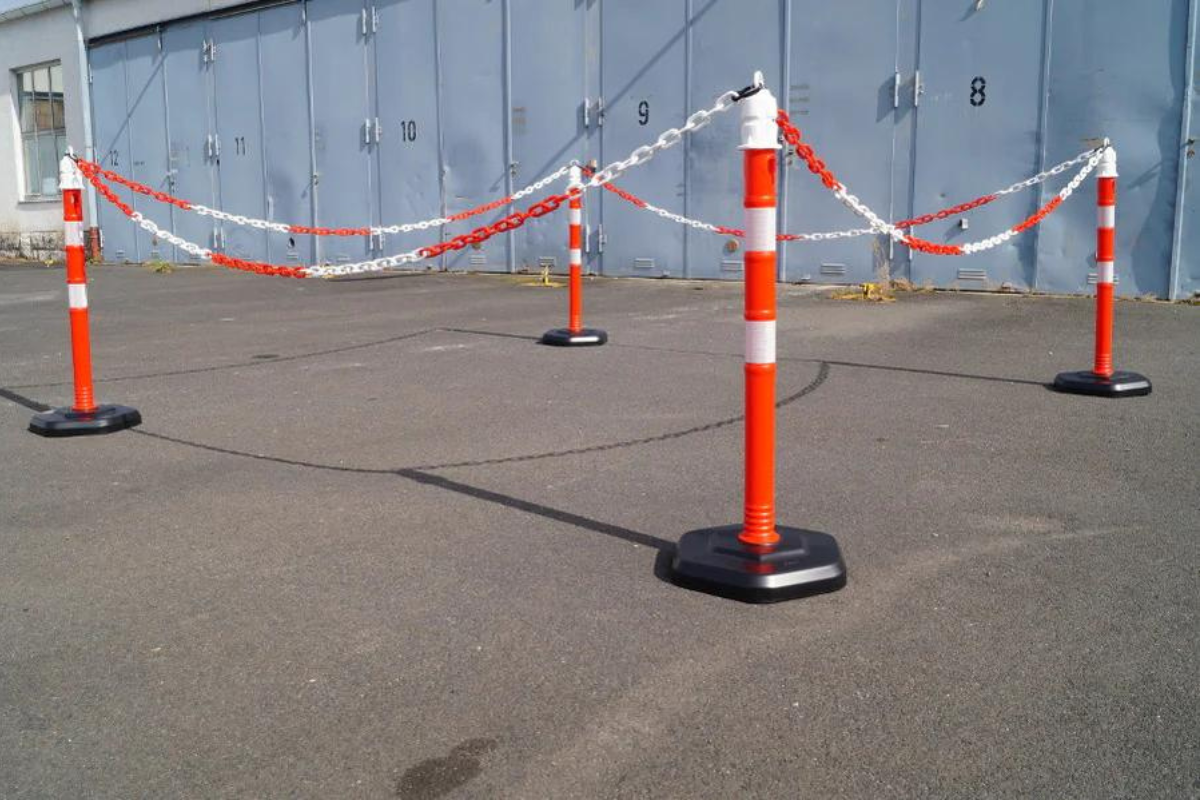 Post and Chain Barriers FAQ
Use chain barriers because they are -
Versatile - they are easily installed or formed into the shape you need them in. Use chain posts for queueing systems, entery denial, pedestrian guidance and more.
Cost-effective - chain barriers are generally quite inexpensive compared to other types of barriers. A simple 6-post system can last for years while in use.
Transportable - chain posts are also very easy to move or store when not in use.
Customisable - can be equipped and expanded with chain and chain links to make a chain set cover even more ground.
Most chain post sets can cover from 10 - 25 metres each, depending on the product.
Guarda chain post set - 10 metres of chain included
Multimax chain post set - 15 metres of chain included
MegaMax chain post set - 25 metres of chain included
Most post and chain barriers will not blow over in light wind. However, if using chain posts outdoors we highly recommend our MegaMax chain post set - this product allows the bases to be filled with sand for a better ballast in outdoor spaces.
If the chain posts are being used permanently in windy environments we would strongly recommend a sub-surface fixed bollard with chain attacements.
Chain post barriers are one of the easiest barriers to install. Because they are free-standing they do not require any permanent fixing to the ground. Simply attach the posts and bases together and then attach chain as necessary. Chains can usually be attached via connecting links.