Pittman have the best selection of kerb ramps and wheelchair ramps available from stock - order now for fast delivery to site. Kerb ramps can be used to provide better accessibility on premises.
What are kerb ramps used for?
Kerb ramps are used to join lower roads or paths with higher ones. Kerb ramps allow wheelchairs, trolleys or prams to access paths easier. 
How to install kerb ramps?
Kerb ramps come in a loose lay format for easy install. In some cases kerb ramps can also be bolted down if required.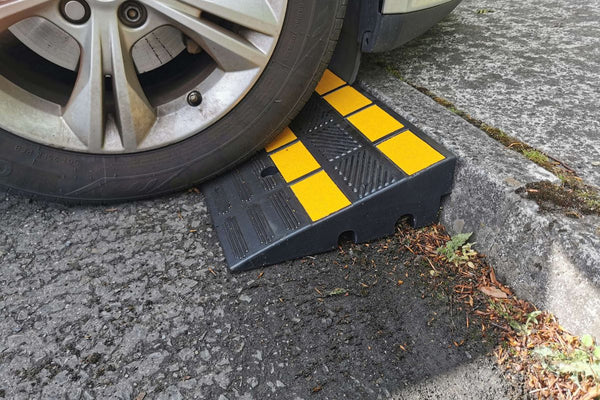 Maximum loading weight of kerb ramps?
What are kerb ramps made from?
Kerb ramps can be made from many materials including rubber, HDPE and LDPE.
What is the strongest kerb ramp?
The strongest kerb ramp is the Heavy Duty Kerb Ramp. This ramp is made from toughened rubber and supports to to 40 tonnes. The heavy duty kerb ramps are suitable for using with HGVs and trucks.
Kerb Ramps FAQ
Most heavy duty kerb ramps require no installation and can loose lay into place easily. If required some can be bolted down into the ground for permament installation. On-site requirements must be checked to ensure that kerb ramps are required permanently or temporarily.
A set of 2 kerb ramps are usually sufficient for a car to access a kerb. However, HGVs may require a futher set to ensure a safe and easy access to kerbs. Kerb ramps can also be layed end on end with each other to create a single continuous ramp, if needed.
Kerb ramps come in various materials including -
Plastic - ideal for trollies, prams and wheelchair access onto kerbs. They usually include a gripped surface to boost stabiliy and reduce the risk of slips.
GRP - GRP ramps provide the ultimate grip for pedestrian footing. They are ideal for wheelchair and trolley access and are highly suited to harsh weather conditions where they can still boost grip in wet weather.
Rubber - rubber kerbing ramps are the best option for cars or HGV access. Our heavy duty kerb ramp can hold up to 40 tonnes per axle and provide long-lasting vehicle access for cars or HGVs.