Fold Down Parking Posts are steel posts used to deter vehicle entry into a space. The presence of the post prevents vehicles from entering. The parking posts can be used to prevent entry, prevent parking spaces from being used against permission or deter would-be car thieves.

Folding parking posts are usually made with steel. This provides excellent protection against wear and tear while being used in public spaces. Folding posts can be equipped with several different locking mechanisms including -
Triangular locking mechanism
Hasp with separate lock
Integral cylinder lock

If you require no bollards in place when entry is needed consider installing removable bollards in your premises.

Retractable bollards will submerge under the ground and will leave no visible on the surface. This helps to reduce the trip hazard that fold down posts would leave. However, telescopic bollards require a longer excavation and installation name.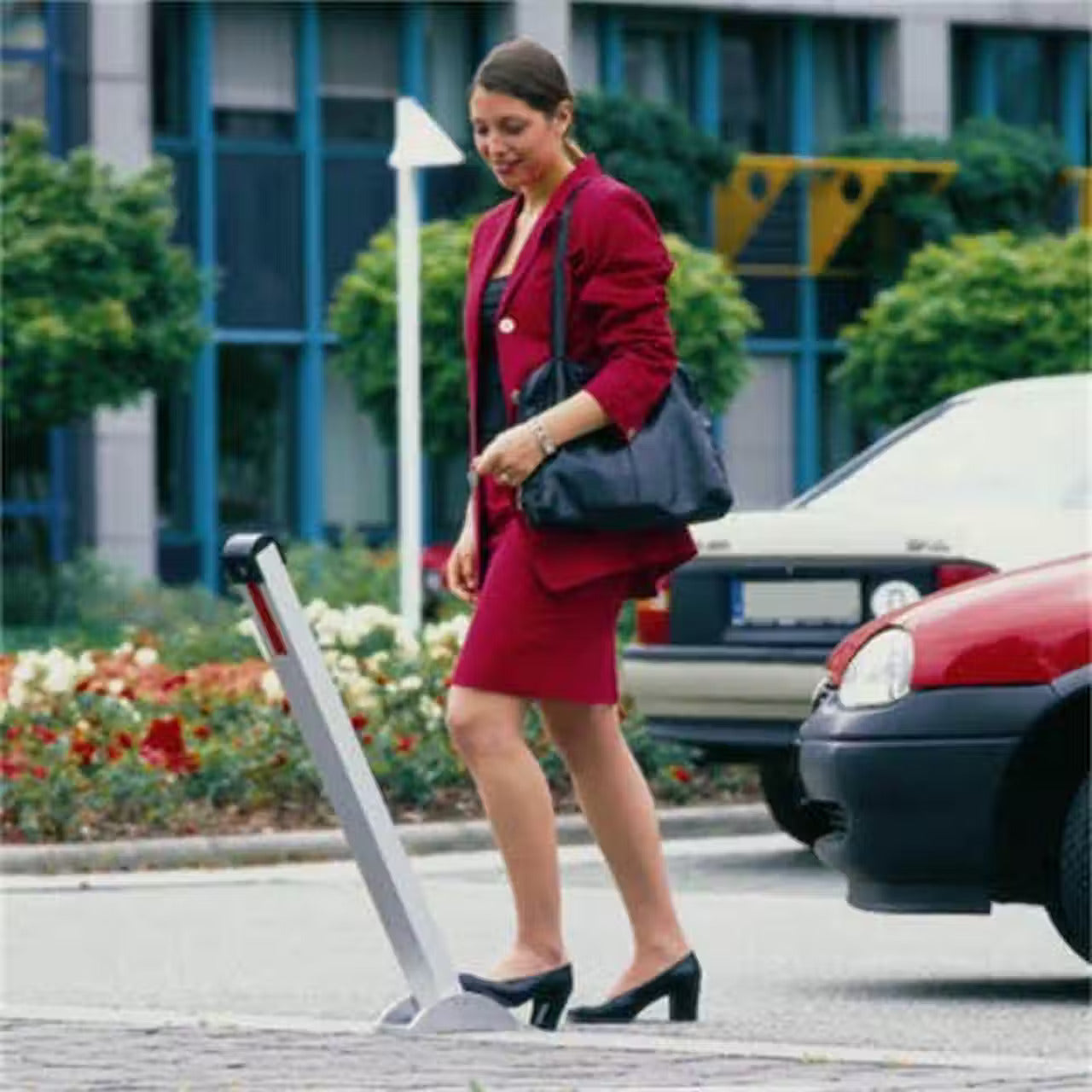 What are fold down parking posts used for?
Fold down parking posts can be installed directly behind where you would normally park your car, deterring theft and providing peace of mind while you are away or at night.

When you require access or are leaving your driveway simply turn the key in the lock and fold the bollard down towards the ground. On return just pull the bollard back up where it will click back into position.

The Controller Fold Down Parking Post is one of Pittman's most popular parking bollards and provides a long lasting theft deterrence where needed most. Made from tough hot-dip galvanised steel these fold down bollards will last a long time while in use. The folding mechanism allows for easy folding when required.

For a wider bollard our Commander Frame Parking Post is an excellent option - the wider arms on the bollards help to reduce the space between car spaces and offer excellent theft deterrence while in use.
How do you install fold down bollards?
Our fold down bollards can be quickly and easily installed directly into concrete.

With bolt down parking posts simply mark out the pre-drilled holes for the bollard and then drill down as needed. Once this is done you can easily tighten the fixings into place. If you are installing into tarmac we would recommend that you first insert a concrete pad to provide a stable base for the bollard. Tarmac tends to be weak at times when it comes to supporting a bollard so installing a concrete base provide the correct support and leverage that the bollard requires.

Retractable bollards need to be cast directly into the ground. Because the bollard submerges under the ground the bollard will be quite deep while in use.

Removable bollards use an included socket. The socket will be cast into the concrete while the post inserts into it. When the post is removed the socket remains in place.